Welcome to Panama Sport Fishing Charters
We are happy to take you to enjoy a great fishing experience in the Gulf of Chiriqui, one of the best location in Panama for sport fishing. You can have the opportunity to catch multiple species (Tuna, Marlin, Sailfish, snapper, roosterfish and others) in this vast area. Be ready to fight and see what is your next trophy.
LET'S GO FISHING 5 NIGHTS 3 DAYS OF FISHING
Enjoy 5 night in the resort in Boca Chica and 3 days of fishing
3 NIGHTS 2 DAYS OF FISHING
Enjoy 3 night in Hotel Bocas del Mar and 2 days of fishing
MONTAÑA Y MAR
Enjoy 5 night and 3 day of fishing plus 2 nights in Boquete
FULL DAY OF FISHING
A complete day of fishing, is your choice if you want to go inshore of offshore fishin
KNOW OUR PLATFORMS
INSHORE – OFFSHORE FISHING
The best boat for an Offshore fishing experience. This Grady White 28 ft with two 300 HP Suzuki engines is equipped with the latest electronic.
For a group of 3 – 5 people.
INSHORE FISHING
A perfect boat for a day of inshore fishing, whale watching or even for a espectacular day in the beach. This boat is powered by twin 90 HP 4 stroke Yamahas.
For a group of 2 – 4 people.
FISHING TACKLES
We fish a Famous location
We fish world famous locations such as Hannibal Bank, Isla's Coiba, Montosa , Secas , Ladrones, Contreras and many others and the various sea mounts and pinnacle rocks. This includes other destinations that lie underwater in our GPS system. Fish in Panama's number one destination for Yellowfin Tuna. Of course, we have an abundance of many species on the sport's list to fill your bucket list.
Enjoy the features of our 28′ Grady-White Sport Fisher, which is second-to-none. In fact, it has the very best equipment top to bottom. We are proud of our twin 300 HP Suzuki four stroke motors (best in their class.) We get on the fish! Furthermore, our boat is the perfect size for the waters that we fish. A lot of thought went into this and equally important, we are set up to chase tuna and all the other species on your list, too.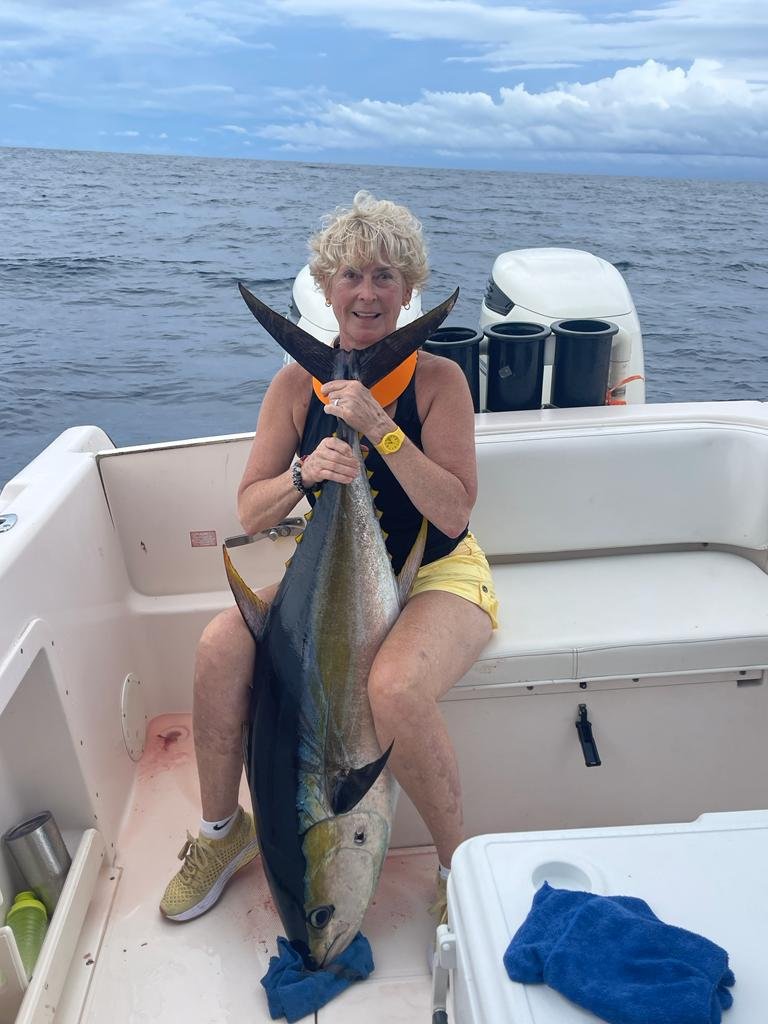 The best season for fishing start in November and ends in September
The dry season runs from January through April and is prime time for all 'species'. And of course the fishing is the excellence we have an abundance of Black Marlin and Blue Marlin.
Additionally, we also get Sailfish, Wahoo, Dorado, and the famous Roosterfish where we are known for the monsters. Furthermore, Cubera Snappers, other varieties of Snappers, and all the different Jacks. Also Grouper, African Pompano, etc. Moreover, if it lies under the waters of the Gulf of Chiriqui, then we can catch it!
PANAMA SPORT FISHING CHARTERS
---